Ground Thaw Report
"Engineered by Design" Flex-Temp's design driven hydronic heat equipment
Flex-Temp Systems New Fusion models.
Whether you're looking for the industry's standard in ground thaw machines... Or need higher performing equipment, The Flex-Temp brand is engineered by design and built for prime performance in extreme cold weather. The Fusion 3000 has a new safety innovation, an embodied bottom spill area with 150% containment. Confine potential hazards in case of a accident. MaxCure automates inversion by adjusting temps on outbound flow with inbound or return flow. Now you can stabilize variant due to ambient temperature drops, extra large thaw areas or balance concrete curing rates. Our surface heating equipment provides new levels of insight and improvement including advanced communications and technology. You can track machines with GPS, or add a backup generator set you only service every 3000 hours. Weekend ground thaw jobs become a little more manageable.
Fusion 3000
Portable Powerhouse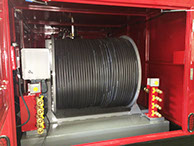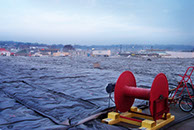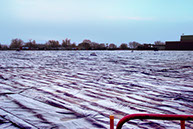 Update the basics, offer first-rate performance in extreme cold weather– Deliver reliable products customers expect.
Engineering by design is what guides Flex-Temp's manufacturing know-how, and our team's years of experience means we understand the value of service. Our equipment and maintenance packages purposely connect you to quality service, first rate
delivery/pickup, and key trouble shooting information so you can make the most
of your investment.
So it's not surprising that many customers consistently rank Flex-Temp's Fusion
series as a top performer in more categories than any other ground thaw supplier. The Flex-Temp brand and Fusion models are time-tested and innovative solutions
designed to help customers reduce cold weather construction time lines, reduce capital requirements, reduce cost of regulatory compliance, and increase work flow.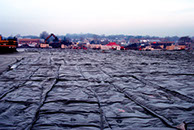 Fusion 1400
Industry Workhorse
> Back
Vikings Stadium construction schedules can change instantly, just like a Minnesota winter.
Flex-Temp Systems flextempsystems.com and Winter Construction Specialties winterconstructionspecialties.com
Frozen ground will not "freeze" the construction of the Vikings Stadium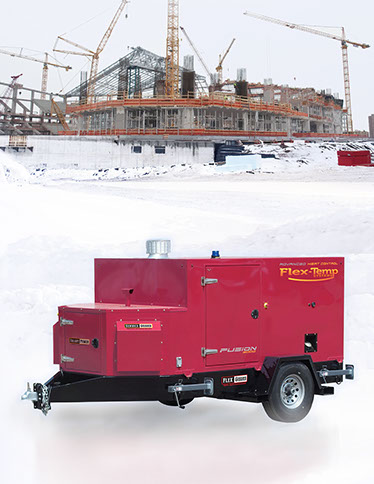 M. A. Mortenson Co. will not let a Minnesota winter dictate the progress of stadium construction. Instead they are utilizing Flex-Temp System's, Fusion 3000 surface heating machines for thawing frozen ground for excavating and warming freshly poured concrete to protect it from freezing. Mortenson chose Flex-Temp Systems, a Minnesota based company that manufactures portable surface heat machines, as a reliable onsite solution to cold weather construction.
The Fusion 3000 works like an above ground in-floor heating system, consisting of 3000 ft. of hydronic hose, boiler and pumps with 190° Propylene Glycol (Antifreeze) running through the system, which thaws up to 6,000 sq. ft. of frozen ground and warms up to 18,000 sq. ft. of concrete for curing in cold weather conditions.
"The hose is laid out and covered with construction insulation blankets and will thaw up to 1 ft. of frozen ground per day," assures Charles Sanvik, President of FlexTemp Systems. He accurately notes that "Digging into frozen ground is like digging into concrete and makes winter construction slow, expensive and, most importantly, ineffective.
Drawing from their success at the Gopher and Twins Stadium sites, St. Cloud based surface heat experts Flex-Temp Systems (www.flextempsystems.com) and Winter Construction Specialties (www.winterconstructionspecialties.com) are now applying their experience and knowledge to the Vikings Stadium site by utilizing their surface heating equipment to aid its progress through the harsh winter months. "
"Not only is it a perfect fit, it's manufactured right here in Minnesota, Minnesota made and Minnesota winter tested," note Sanvik. The Fusion 3000 is specifically engineered for thawing frozen ground and keeping newly poured concrete from freezing even at 30º below. "There are areas with up to 10 ft. feet of frost on the Stadium site because heavy equipment has been running over the area, driving the frost far deeper than average," observed Shawn Yurczyk. Vice President of Flex-Temp Systems.
Delaying a construction project until warmer weather arrives usually isn't an option under most job schedules. But if the task at hand is Frost Prevention, Ground Thawing or Concrete Curing, FlexTemp Systems provides solutions to get the job done!